Montana Department of Justice - INTEL Crime Analyst
This job is currently closed. Please check our
Current Jobs
.
---
Job Announcement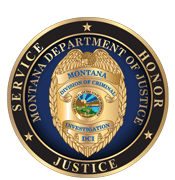 Join the team that safeguards Montana!
The Crime Analyst position serves to improve decision making and proactive law enforcement state­wide by collecting, analyzing, storing and disseminating criminal intelligence information that is associated with identifiable individuals, groups, organizations or events that are known or suspected to relate to the investigation of major criminal conspiracies, projections about criminal operations or the production of estimates regarding future major criminal activities (MCA 44-5-103).
This employee will systematically gather, evaluate, organize, assemble, retain and report information for the purpose of detecting and identifying criminal activities, trends, entities, participants and methods. The work involves conducting research, analyzing raw data, uncovering new sources of information, identifying patterns of criminal activity and developing links between criminals and crime groups who may be involved in a diverse, sustained array of criminal conduct or offenses that cross jurisdictional boundaries.
The employee will communicate with others, review their work for general compliance with pre-established standards, present results and write summaries and reports. The subsequent informa­tion will be utilized to generate a range of correct inferences, hypotheses, recommendations, and referrals that, once properly presented, will cause, coordinate or supplement enforcement, investigative and prosecutorial efforts.
The incumbent will obtain, interpret, depict, and share confidential investigative/intelligence information as authorized in accordance with the policies and procedures of the Montana Department of Justice, Division of Criminal Investigation (DCI), MATIC. The employee will establish and maintain a wide network of routine contacts with relevant agencies, officials, and individuals in an effort to promote the timely, consistent exchange of information in furtherance of mutual goals and objectives. The employee will assist with ongoing investigations and complete other duties as assigned.
Minimum Qualifications:
A bachelor's degree in any field that includes research and analysis of data, including but not limited to criminal justice, law, social science, history, mathematics, or computer science.
Two years of professional experience in governmental intelligence analysis with a criminal justice, military, or governmental intelligence agency, criminal intelligence network organization, or business, financial or academic institution that compiles data, analyzes findings and writes reports that indicate relationships between various parties.
This agency will accept alternative methods of obtaining necessary qualifications. Once the two-year professional work experience requirement has been met, additional direct work experience in intelligence analysis may be substituted for required education and training on a year for year basis.
Other combinations of education and experience will be considered on a case-by-case basis.
Within 12 months of hire, the incumbent will start the process to obtain a Secret and/or Top-Secret Clearance issued by the federal government. If the incumbent is unable to obtain this clearance, employment will be terminated.
Preferred Qualifications:
Successful completion of a specialized, extensive (multi-week) training course in intelligence analysis.
Special Instructions:
The candidate is asked to prepare a 10-minute PowerPoint presentation on Human Trafficking. The PowerPoint should contain only open-source information and include analysis as to the impacts in Montana.
HOW TO APPLY:
To be considered for this position, you must attach a résumé at the time of application.
Tip: When attaching your resume, you must mark the attachment as a "Relevant File."
Your Résumé: Please include all work experience as well as job duties that demonstrate your qualifications for this position. Include dates of employment (month & year- start & end) and the reason you left each job.
AMAZING State of Montana benefits:
Medical, dental and vision coverage
Public Employee's Retirement System (PERS) plan choices - Defined Benefit or Defined Contribution
Additional 457b Deferred Compensation plan
Generous paid vacation, sick and holidays
Pre-tax Flexibility Spending Accounts
Employee Assistance Program
State of Montana employment may qualify for student loan forgiveness under the Public Service Loan Forgiveness (PSLF) program.
Closing Date (based on your computer's time zone): May 31st, 2023, 11:59:00 PM
Please direct questions regarding this position to armando.oropeza@mt.gov
Jobs close at 11:59 PM (Eastern) on the deadline date specified, or when the position capacity has been met, or unless otherwise specified in the announcement. If the deadline date is not specified in the announcement, the agency has sole discretion on setting the deadline and jobs may close without notice. It is the applicant's responsibility to thoroughly read and understand the deadline requirements and capacity limits as outlined by the agency.

Applicants are responsible for checking their email and logging into their PoliceApp, PublicSafetyApp, FireFighterApp or EmployementApp account to monitor for emails, scheduling and process updates.