Montana Department of Justice - Academy Training Officer
This job is currently closed. Please check our
Current Jobs
.
---
Job Announcement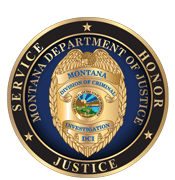 The mission of the Montana Department of Justice Law Enforcement Academy is to serve law enforcement agencies and the communities they represent by providing a positive atmosphere where relevant and realistic training for new and veteran public safety professionals can occur.
This position serves as an Academy Training Officer and technical expert in one of several law enforcement and public safety disciplines. The primary duties of the position coordinates and oversees the delivery of Defensive Tactics (DT), Fitness, and Police Vehicle Operation Course (PVOC). The position will also assist with other areas of instruction as needed.
Knowledge, Skills, and Abilities:
This position requires a working knowledge in physical fitness, health and wellness, and the ability to instruct in these areas and inspire officers to embrace both physical fitness and a healthy lifestyle as a means of improving job performance and safety. The successful candidate will develop and lead the physical fitness program and will integrate physical fitness and defensive tactics instruction.
Relevant training and experience in defensive tactics utilized by police officers in defending themselves from attack, and those used in subduing combative and resistant subjects is required. The successful candidate must have demonstrated ability to instruct in this area.
This position requires hands-on preparation and basic routine maintenance of a fleet of retired patrol vehicles which are utilized in the training of officers in the basic academy. The successful candidate must have demonstrated ability to instruct in all phases of PVO and supervise assisting adjunct instructors.
Have general knowledge of the theories and practices of law enforcement, public safety, and the criminal justice system.
The position requires advanced knowledge of defensive tactics techniques and best practices.
Effective program management will require the incumbent to have a general knowledge of the application and interpretation of administrative rules relating to peace officers, state and national law enforcement standards and practices, budgeting, research and analysis methods, techniques and technologies related to law enforcement, and execute performance objectives in a safe and timely manner.
Adjunct staff supervision requires the ability to pre-plan activities and communicate standards effectively, and ensure all staff are conducting training professionally and safely.
A general knowledge of Microsoft Office Word, Excel and Power Point programs is required.
The ability to work extended hours as needed to accomplish training objectives.
Be self-motivated to complete scheduled tasks with limited supervision.
Minimum Qualifications:
Bachelor's degree in education, organizational development, or related field.
Experience with physical fitness and defensive tactics.
Previous training and experience in the operation and maintenance of police pursuit vehicles.
Two years of experience in training, teaching, or a related field.
Other combinations of education and experience may be substituted.
Special Instructions:
If selected for an interview, you will be required to prepare and conduct a 10 to 15-minute presentation.
The incumbent will be scheduled for advanced training in the primary duties of the position.
HOW TO APPLY:
To be considered for this position, you must attach a résumé at the time of application.
Tip: When attaching your resume, you must mark the attachment as a "Relevant File".
Your Résumé: Please include all work experience as well as job duties that demonstrate your qualifications for this position. Include dates of employment (month & year- start & end) and the reason you left each job.
Incredible state of Montana benefits:
Medical, dental and vision coverage
Retirement plan choices - Defined Benefit and Defined Contribution
Additional 457b Deferred Compensation plan
Generous paid vacation, sick and holidays
Pre-tax Flexibility Spending Accounts
Employee Assistance Program
Did you know - No sales tax in Montana
State of Montana employment may qualify for student loan forgiveness under the Public Service Loan Forgiveness (PSLF) program.
Closing Date (based on your computer's time zone): Dec 19, 2022, 11:59:00 PM
Please direct questions regarding this position to armando.oropeza@mt.gov
Jobs close at 11:59 PM (Eastern) on the deadline date specified, or when the position capacity has been met, or unless otherwise specified in the announcement. If the deadline date is not specified in the announcement, the agency has sole discretion on setting the deadline and jobs may close without notice. It is the applicant's responsibility to thoroughly read and understand the deadline requirements and capacity limits as outlined by the agency.

Applicants are responsible for checking their email and logging into their PoliceApp, PublicSafetyApp, FireFighterApp or EmployementApp account to monitor for emails, scheduling and process updates.